Sunday Music Musings June 13, 2020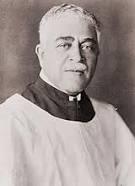 This Sunday's hymn is arranged by Harry T. Burleigh. Burleigh was born in Erie, PA, in 1866, the grandson of a freed slave. His formative musical years were spent there in the choir of the Episcopal Cathedral of St. Paul. His fine baritone voice also had him hired as soloist for civic events, and at Park Presbyterian Church and the Hebrew Synagogue. In 1892 he was granted a scholarship at the National Conservatory of Music in New York, where he met and influenced as well as being mentored by Antonin Dvorak. Eventually he joined the men and boys choir at St. Philip's Episcopal Church, a prominent New York City black Episcopal Church. When the director of the National Conservatory, Jeannette Thurber, heard of a baritone opening at St. George's Protestant Episcopal Church(1) in Styvestant Square, she encouraged him to apply. The rector, Rev'd Dr. Rainsford, and the choirmaster, knowing the audition would be controversial, arranged for blind auditions from behind a screen. Predictably, when the committee realized they had hired a young black man, they balked, but Rainsford, with the support of Senior Warden J.P. Morgan (who covered pledges some threatened to withhold) stood firm. Burleigh would have withdrawn quietly, but the choir director, William Chester insisted "your place is here with us." And so it was for 52 years.
Dr. Rainsford believed the church should grow in its community and that music was central to that growth. Services were reported on regularly in the New York newspapers, and Burleigh was often listed as soloist—becoming legendary for his Palm Sunday rendition of J. Fauré's The Palms. Burleigh earned a reputation early in the 20th century as a composer of classical art songs, as well as anthems, and some works for violin*. In 1916-17 his solo arrangements of spirituals were first published, which were performed by many singers of the time (including John McCormack) and became quite popular and his lasting legacy. In 1924 Organist/Choir Director George Kemmer inaugurated and annual Vespers service of Negro Spirituals to celebrate Burleigh's 30th anniversary at St. George's and to honor him as an arranger and composer. The service was so popular it was standing room only a half hour in advance and had to be repeated in April. These services were broadcast on the radio beginning in 1925.
In 1944 Burleigh was honored as a Fellow of the Hymn Society in the United States and Canada. He was also a founding member of ASCAP.
One of his last compositions was a hymn tune, named McKee in honor of Elmer M. McKee, (rector from 1936-1946). This was the first African-American tune included in a mainline hymnal (1940), with the words by John Oxenham "In Christ There is No East or West." According to a letter from Charles V. Stanford to Samuel Coleridge-Taylor (who arranged the tune in a piano set), it was originally an Irish tune taken to the United States and adapted by African American slaves. It became associated with the spiritual "I Know the Angels Done Changed My Name," which appeared in J. B. T. Marsh's The Story of the Jubilee Singers with their Songs (1876).
Burleigh retired in 1946, and died in 1949. His body lay in the chapel at St. George's where hundreds paid respects, and thousands attended his funeral, but no cemetery within New York City would accept the body of an African-American. The rector secured a plot in Hastings-On-Hudson, NY. Burleigh was re-interred in 1994 in Erie Cemetery thanks to the intervention of the Burleigh Society. He is honored (with a quote from McKee) in a stained-glass window at St. Paul's.
Today (Sunday June 14) our head chorister, Kimberly L. is playing her senior violin/viola recital at 3 pm, and it will be streaming on facebook and instagram. She will be playing Burleigh's Southland Sketches*(1916) for violin and piano with her brother Charlie (another Grace chorister) on piano. The composition works in several spirituals and folk tunes including Stephen Foster's "Swanee River."
For some reason the Episcopal Hymnal 1982 leaves out a (second) verse:
In Him shall true hearts everywhere
Their high communion find
His service is the golden chord
Close binding all mankind.
My sources for this blog were The Hymnary, The Harry T. Burleigh Society, and a fantastic  April 2016 AAM Journal article by Ethnomusicologist Jean E. Snyder. (1) St. George's is now Calvary-St. George's, and there is large plaque paying tribute to Harry T. Burleigh.