Sunday Music Musings August 8, 2020
Flor Peeters (1903-1986) was a Belgian organist and prolific composer. He became assistant organist at the Cathedral of St. Rombout in Mechelen in 1923, and served as a professor of organ at Ghent Conservatory from 1931 to 1938 and professor of organ at the Tilburg Conservatory in the Netherlands from 1935 to 1948. He wrote a huge output of organ music, especially known for short, useful, liturgical volumes on many hymn-tunes. He was a master of the variation form and a friend and admirer of the great French organist Charles Tournemire (1870-1939). He was also influenced by early music, from Gregorian chant to Renaissance polyphony.
Joseph Stevenson of Allmusic explains:
"Germany attacked and occupied both Belgium and the Netherlands in 1940. Peeters refused to perform for the German occupiers. As a result, his passport was confiscated. Nevertheless, he was permitted to travel regularly across the border between Belgium and the Netherlands in order to continue his teaching at Tilburg, and, in the course of doing this, he carried secret messages between the authorities of the cathedrals of these two countries."
Peeters became organ professor of Antwerp Conservatory in 1948, and became director of the Conservatory in 1952. He was in much demand as a teacher and gave master classes in addition to concerts throughout the world, including several teaching visits to Boys' Town, Nebraska. In 1971, King Boudoin elevated him to the Belgian peerage as Baron Peeters, only the third Belgian musician so honored.
There are several vocal settings of "Whither Thou Goest" by many composers – often offered as wedding repertoire, or called "The Wedding Song." I always wonder if the brides who pick this text realize it is being sung to a mother-in-law, as in Ruth to Naomi. Naomi has travelled to live in Moab because of a famine, but when her husband and both sons die she prepares to return to Bethlehem, and urges her two foreign daughters-in-law Orpah and Ruth to find new husbands (the only way for a woman to have security or status). While Orpah returned to her mother's home, Ruth clung to Naomi and told her that she will stay with her and that Naomi's God and people will be her God and people. The meaning can be extrapolated into following God's path, the God of Jacob – Ruth ends up marrying Boaz and becoming grandmother to Jesse, father of David. I want to thank Linda for the beautiful work she did on this solo.
Our hymn of the day, Jesus Lover of My Soul has a strong pedigree, with words by Charles Wesley and a lovely minor key Welsh tune.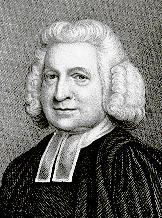 Charles Wesley (1707-1799) was the youngest son and 18th child of Samuel and Susanna Wesley. One could write a dissertation rather than a blog about him. Here are the most pertinent facts from The hymnary.org
Charles Wesley, the son of Samuel Wesley, was born at Epworth, Dec. 18, 1707. He was educated at Westminster School and afterwards at Christ Church, Oxford, where he graduated M.A. In 1735, he took Orders and immediately proceeded with his brother John to Georgia, both being employed as missionaries of the S.P.G. He returned to England in 1736. For many years he engaged with his brother in preaching the Gospel. He died March 29, 1788. To Charles Wesley has been justly assigned the appellation of the "Bard of Methodism." His prominence in hymn writing may be judged from the fact that in the "Wesleyan Hymn Book," 623 of the 770 hymns were written by him; and he published more than thirty poetical works, written either by himself alone, or in conjunction with his brother. The number of his separate hymns is at least five thousand.
The choristers know that a good guess to the question "what country is this tune from?" is always "Wales!" especially if there are this many Ys in the name! Aberystwyth, in the historic county of Cardiganshire, literally means "at the mouth of the river Ystwyth." We also use this tune for "Watchman, tell us of the Night."
The Welsh composer of this tune, Joseph Parry (1841-1903), born into a poor but musical family, spent some time in Danville, Pennsylvania in 1854, where he later started a music school. He traveled in the United States and in Wales, performing and composing , and he won several Eisteddfodau (singing competition) prizes. Parry studied at the Royal Academy of Music at Cambridge. He traveled in the United States and in Wales, performing, studying, and composing music, and he won several Eisteddfodau (singing competition) prizes. Parry went on to receive a Doctorate in Music from the University of Cambridge; the first Welshman to receive Bachelor's and Doctor's degrees in music from the University. He became professor of music at the Welsh University College in Aberystwyth, and established a school of music there. Later he was lecturer and professor of music at the University College of South Wales in Cardiff (1888-1903). Parry composed vocal and instrumental music, as well as over four hundred hymn tunes. (No relation to C.H.H. Parry).
The postlude is based on the Aberystwyth tune, and is a toccata (showy piece!) alternating flashy fast accompaniment patterns with clear iterations of the hymn in one hand or pedal in alternation with fantasia-like sections based on snippets of the tune. David Bednall is a choral and organ composer published by Oxford University Press. You can find this piece is their collection of music for Lent and Easter. David Bednall studied for a PhD in Composition at the University of Bristol where he combines his extensive freelance career with the post of Sub Organist at Bristol Cathedral.
David works frequently in a duet partnership with Malcolm Archer, the arranger of our Ash Grove Gloria. They share a love of improvisation and this can be heard on their critically acclaimed Sounds Spontaneous which was recorded at Blackburn Cathedral. On this recording they took turns to improvise on themes and chants spanning the liturgical year. This seems to tie us back to our first organ composer of today's discussion–Flor Peeters, who was inspired by hymns chants, improvising and the liturgical year.
Have a lovely Sunday!
Sunday morning update: Link to the service.