Sunday Music Musings June 12, 2021
Our prelude is the festive Arrival of the Queen of Sheba from George Frideric Handel's (1685-1759) oratorio "Solomon." I associate it with graduation season, and so I am playing it in honor of all of our seniors, especially today's preachers, Anne Bolt and Kian Deane.
I was really happy that we were able to have an outdoor choir recognition service last week. Each small group sang something—the younger choristers demonstrated a round in solfege, the Daughters of Zion sang "Now I Walk in Beauty," the Gargolyes sang the Peruvian "Gloria a Dios" and the adults led everyone in the South African "Siyahamba" – "We are marching in the Light of God". One thing we could not do, was thank our two seniors, and pass on head chorister badges because one of them was away. Luckily this week, they are both giving senior sermons, something I look forward to every year. Please join us live at 10 a.m. (no pre-sign-up necessary—just sign in when you arrive by 9:45) or livestream with us on the Grace Church YouTube channel, or, watch it any time after!
Our head chorister Anne Bolt has been in choir since second grade. Although she is one of the busiest people I know, with advanced ballet commitments, sports and violin, she always had time to help with the younger kids and find a way to balance her commitments with choir rehearsals and Sundays. She is also Madison High School valedictorian, and will attend the University of Pennsylvania in the fall. All through pandemic she came to zoom choir, submitted choir videos and mentored younger choristers. I am really happy to share a video I found where she had big solo in Britten's Festival Ted Deum in our 2013 Britten's 100th Birthday concert. (Her solo starts at 4:35).
Kian Deane is the most loyal and dedicated choir member, whose good nature, wry humor and calm will serve him well in college when he attends Lawrence Technological University to study mechanical and manufacturing engineering technology. Kian also started in elementary school, and persisted with weekly lessons when at first he couldn't match pitch–only to become head chorister! The Gargoyles under his leadership were very consistent throughout pandemic year—attending zoom rehearsals every Thursday night, and making virtual videos for offertories and Evensong, and even one really fast and socially distanced recording session for the Christmas Pageant service.
Kian will pass on Head Guy duties to two rising juniors, his brother Luke and Charlie Love. Anne was co-head chorister with junior Mia Melchior, who continues, and they will pass on co-duties to rising Junior Elisabeth Wielandy. As I was getting ready for what is usually a pass-off, I went out to the choir robes and realized that Anne, Kian and Mia have NEVER WORN THEIR HEAD CHORISTER BADGES because of the pandemic. Last year we did a virtual pass-off (39:25) of a piece of paper with a picture of the badge! I am happy they will wear them tomorrow and throughout the summer (I have 6 badges ready!).
Anne and Mia are serving as cantors as well, and for an anthem we are doing a sentimental senior favorite, Here's to Song by Allister MacGillivray (b.1948). MacGillivray is a Canadian singer/songwriter, guitarist, folklorist, author, record producer, and music historian. His songs are largely Celtic in style and his best-known work, Song for the Mira, has become something of an anthem in Nova Scotia.
The Gargoyles will be our small gallery choir Sunday, and sing a tradition arrangement of the spiritual "Steal Away" during communion. They will join the cantors in chanting the plainsong psalm.
Our hymn of the day will be Jerusalem My Happy Home (LAND OF REST), Hymnal 620, a favorite. The text is credited to F.B.P (16th century) with nothing else known, and adapted by various hymnists. The tune LAND OF REST is an American folk tune with roots in the ballads of northern England and Scotland. It was known throughout the Appalachians; a shape-note version of the tune was published in The Sacred Harp (1844) and titled NEW PROSPECT as the setting for "O land of rest! for thee I sigh." The tune was known to Texan musicologist of American folk music, Annabel M. Buchanan (1888-1983), whose grandmother sang it to her as a child. She harmonized the tune and published it in her Folk Hymns of America (1938), and she is also credited in our hymnal.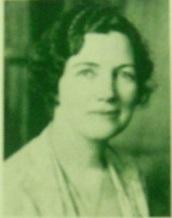 Annabel M. Buchanan, folk music expert
The postlude is a setting by the very prolific Charles Callahan (b. 1951), American composer, organist, and teacher. A graduate of the Curtis Institute of Music in Philadelphia, Pennsylvania, with graduate degrees from the Catholic University of America in Washington, DC., Callahan has taught at Catholic University, Middlebury College, Baylor University, Rollins College, and The Bermuda School of Music. This setting of Jerusalem My Happy Home actually honors another of my favorite composers, Ralph Vaughan Williams (1872- 1958), by paying homage to his famous organ piece, Rhosymedre (which Jabez and I had in our wedding prelude 25 years ago this week).
As I looked for that video from the 2013 Britten concert, I found this video of the little-performed "Friday Afternoons" from the same concert which has great solos by many, and views of the head choristers past and future when they were in the "red" choir. Can you find them? I hope they forgive my showing their "baby pictures"! Please enjoy!
All head choristers, this year and next, plus two current cantors and some past heads can be found in this 2013 video!